Country Living 7.5ft Aspen Slim Pine Christmas Tree with 600 Clear Lights
Item#07110949000 | Model#S-P112891
Special Offers

Free Shipping

Offer ends 10-Jul-2013 See details.
Clearance.Intermediate markdowns may have been taken
While supplies last
Location of Rewards Numbers
SM
Your Member number and PIN are located on the back of your Shop Your Way RewardsSM card.
If you've lost or misplaced your card or numbers visit ShopYourWayRewards.com.
About Shop Your Way Rewards
SM
It's our free program that rewards our best customers. As a Shop Your Way Rewards you earn Points when you buy the things you want and need. Then you redeem those Points online or in store at Sears, Kmart, Lands' End, the great indoors, Sears Home Services, Sears Auto and mygofer. The more you shop, the faster your Points and special benefits pile up. It's a simple, fun and exciting way to shop.
About Shop Your Way Rewards
SM

VIP Levels

Our VIP Program is our way of saying thanks and recognizing our best Shop Your Way Rewards SM Members. There are three VIP levels: Silver, Gold and Platinum. Levels are determined by the dollar amount you spend annually. The more you spend in a year, the higher your status and the more benefits you enjoy. VIP benefits include special bonus Points, a personalized Member card, a dedicated 800 phone number and other exclusive offers.

Level

Annual spend threshold level

VIP Silver

: $2,500 annual spend

VIP Gold

: $5,000 annual spend

VIP Platinum

: $10,000 annual spend
About Shop Your Way Rewards
SM

Points

As a Shop Your Way Rewards Member, you earn 10 Points for every $1 you spend on Qualifying purchases. Plus, you'll receive exclusive deals and bonus offers that will help you pile up Points even faster.Want to see how many points you'll earn? Or how many points you need to buy something special? Use the My Points Converter. It helps you determine the value of your Points and purchases, including any bonus offers.

Customer Service Notification

Due to enhancements we are making to Shop Your Way Rewards, the posting of rewards activity is taking several days longer than normal. Your point balance may not reflect your most recent purchase or redemption activity. Thank you for your patience as we upgrade our systems to better serve you.
My Points Converter
Shop Your Way Rewards
SM

Terms
Your Purchase Amount:
The price of your purchase before sales tax
Your Points:
The number of Points in your account or the number of Points required / earned for a purchase
Bonus Points Multiplier:
Enter the multiplier for your bonus offer (i.e. 2X points, 3x points, etc.)
Points have a value of:
Cash value of your Points
Product Description
Display your favorite ornaments while saving on space with this slim, 7.5ft, pre-lit Aspen pine tree.
7.5 ft. tall
600 clear, Never-Out lights
1180 easy to shape branch tips
42in. base diameter
Includes rotating metal stand and replacement bulbs
Care Instructions
To reduce the risk of overheating, promptly replace burned-out bulbs. Use only the bulbs packaged with this product. Always unplug this product before installing or replacing fuses and bulbs.
Added on August 19, 2011
Back to Top
Specifications
Product Overview:
Color:
Green
Tree Type:
Artificial
Tree Shape:
Slim
Family Type:
Pine
Design & Construction:
Setup Requirements:
Some assembly required
Tip Count:
1001 - 2000
Tip Material:
Polyvinyl Chloride (PVC)
Warranty:
General Warranty:
3 year limited
Lighting:
Light Color:
Clear or white lights
Lighting Type:
Incandescent
Number of Lights:
401 - 600 lights
Dimensions and Weight:
Item Weight (lbs.):
40
Tree Diameter at Base:
31 - 45 in.
Tree Height:
7.5 ft.
Others:
Indoor or Outdoor:
Indoor
mygofer Can Help
mygofer Guarantees, Policies & Agreements
mygofer return and exchange policy
Satisfaction guaranteed or your money back. Restocking, cancellation or other restrictions may apply. Learn More
mygofer purchase protect plan
If there's ever a problem with your product, a protection agreement can provide you with peace of mind. Find out how.
Customer Ratings And Reviews
Overall, others give this:
1 Reviewers
(25.0%) would recommend this to a friend.
Reviewers may have received a benefit, like a sweepstakes entry or rewards program points, in exchange for writing a review.
Those benefits were not conditioned on the positive or negative content of the review.
Most Helpful Reviews
Praise
1 found this helpful
Beautiful Tree!
I bought this tree yesterday and I'm really happy with it.  My husband came home and was VERY pleased.  Easy to esemble and beautiful!!!!
Criticism
1 found this helpful
Are you kidding me?
I just got this tree, first new one in YEARS.  Nice look, good color, easy assembly but the entire top half of the tree wont light.  Back to Sears for another...very disappointed.
Related Products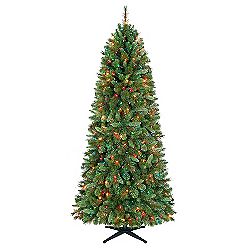 This 7ft. Stratford Slim pine ...
Dress Up a Small Apartment ...
This 9ft Aspen Mountain Slim ...