Craftsman 5 Drawer Homeowner Tool Center with Riser
Item#005W911315110001 | Model#100277
Special Offers

Free Shipping

Offer ends 01-Nov-2014 See details.
Location of Rewards Numbers
SM
Your Member number and PIN are located on the back of your Shop Your Way RewardsSM card.
If you've lost or misplaced your card or numbers visit ShopYourWayRewards.com.
About Shop Your Way Rewards
SM
It's our free program that rewards our best customers. As a Shop Your Way Rewards you earn Points when you buy the things you want and need. Then you redeem those Points online or in store at Sears, Kmart, Lands' End, the great indoors, Sears Home Services, Sears Auto and mygofer. The more you shop, the faster your Points and special benefits pile up. It's a simple, fun and exciting way to shop.
About Shop Your Way Rewards
SM

VIP Levels

Our VIP Program is our way of saying thanks and recognizing our best Shop Your Way Rewards SM Members. There are three VIP levels: Silver, Gold and Platinum. Levels are determined by the dollar amount you spend annually. The more you spend in a year, the higher your status and the more benefits you enjoy. VIP benefits include special bonus Points, a personalized Member card, a dedicated 800 phone number and other exclusive offers.

Level

Annual spend threshold level

VIP Silver

: $2,500 annual spend

VIP Gold

: $5,000 annual spend

VIP Platinum

: $10,000 annual spend
About Shop Your Way Rewards
SM

Points

As a Shop Your Way Rewards Member, you earn 10 Points for every $1 you spend on Qualifying purchases. Plus, you'll receive exclusive deals and bonus offers that will help you pile up Points even faster.Want to see how many points you'll earn? Or how many points you need to buy something special? Use the My Points Converter. It helps you determine the value of your Points and purchases, including any bonus offers.

Customer Service Notification

Due to enhancements we are making to Shop Your Way Rewards, the posting of rewards activity is taking several days longer than normal. Your point balance may not reflect your most recent purchase or redemption activity. Thank you for your patience as we upgrade our systems to better serve you.
My Points Converter
Shop Your Way Rewards
SM

Terms
Your Purchase Amount:
The price of your purchase before sales tax
Your Points:
The number of Points in your account or the number of Points required / earned for a purchase
Bonus Points Multiplier:
Enter the multiplier for your bonus offer (i.e. 2X points, 3x points, etc.)
Points have a value of:
Cash value of your Points
Product Description
Keep It All Together Smartly with the Craftsman 5 Drawer Tool Center with Riser
Thoughtfully designed and perfectly priced, the Craftsman Homeowner Tool Center with Riser is the ideal storage solution for all your tools and supplies. Consisting of a top and bottom chest, the tool center provides you with a variety of drawer sizes to store parts, hand or power tools and everything in between, while a bulk storage area below provides ample space for larger household items like paint cans and cleaners.
For the man who values his tools - this 5 Drawer Tool Center offers the perfect way to show it. Apart from offering a combination that works best for you, the heavy duty steel unit holds almost 12,573cubic inches of storage and features many upgrades to keep you working more efficiently. A hinged support keeps the top lid in an open position giving you easy access to those tools that you always need, while caster wheels let you move the tool center so your equipment is always close at hand. The unit features an external keyed locking system to keep your tools secure ensuring that you never have to worry about losing them when you're not around.
Craftsman Homeowner Tool Center with Riser offers a 12,097 cubic inch capacity
All steel construction for strength and durability
Standard steel drawer slides provide easy drawer operation and hold up to 25 lbs. per drawer
Drawer Dimensions:
2 drawers measure: 18 1/8'W x 10 3/4'D x 2'H
1 drawer measures: 18 1/8'W x 10 3/4'D x 4'H
2 drawers measure: 22 1/8'W x 12 3/4'D x 4'H
Keyed external locking system secures stored items
3 x 1 in. casters (two rigid, one swivel, one swivel with brake)
Recessed plastic side handles
Comes with nostalgic Craftsman decal (customer-installed)
Overall dimensions: 26 1/2'W x 14'D x 54'H
Weight: 68.8 lbs. (31.2 kg)
This product comes with:
Added on October 21, 2010
Back to Top
Specifications
Dimensions and Capacity:
Capacity cu. in.:
12097
Depth (in.):
14
Height (in.):
54
Width (in.):
26
Product Overview:
Assembled:
Assembly Required
Integrated Lock:
No
Item Weight (lbs.):
68.75
Type:
Project centers & work centers
Color:
Color Family:
Black
Color/Finish:
Black / Baked enamel
Storage:
Has Bulk Storage Area:
Yes
Drawer Configuration:
Drawer Slide Type:
Standard steel slide
Number of Drawers:
5
mygofer Can Help
mygofer Guarantees, Policies & Agreements
mygofer return and exchange policy
Satisfaction guaranteed or your money back. Restocking, cancellation or other restrictions may apply. Learn More
mygofer purchase protect plan
If there's ever a problem with your product, a protection agreement can provide you with peace of mind. Find out how.
Customer Ratings And Reviews
Overall, others give this:
45 Reviewers
(78.0%) would recommend this to a friend.
Overall Rating Breakdown:
Reviewers may have received a benefit, like a sweepstakes entry or rewards program points, in exchange for writing a review.
Those benefits were not conditioned on the positive or negative content of the review.
Most Helpful Reviews
Praise
8 found this helpful
A decent toolbox
I got this toolbox on sale for $89.00.  I am a new homeowner on a tight budget, and was previously storing my tools in a series of tucker totes.....  As you can imagine, this is miles above that.  The drawers are a bit flimsy, and the slides are not ball bearing, but it does what it needs to do, store tools and keep them organized.  There is a lot of space, drawers are a good size, and its price cant be beat.  Perfect for a casual tool user.
Criticism
13 found this helpful
Where's Customer Service?
I recently purchased this item online through Kmart for my husband's birthday. Trying to be nice I started to put it together with a friend and discovered that there were items missing, the assembly packs needed to screw the thing together. I called the Craftsman number on the parts list to ask to see if we could get the assembly pack sent to us, I was given a different number to call (it was a weekend and this place is only open Mon-Fri). Monday my husband called the new number, was transfered around to 5 different people and then was told they would call him back in 24 hrs. They did not call, he called again, was transfered around another 3 times and was once again told that they would call back. We still have not recieved call. If we return the item back to the store we are out $35 for shipping. We would like to be able to use the product but can't. Way to go Craftsman.
Related Products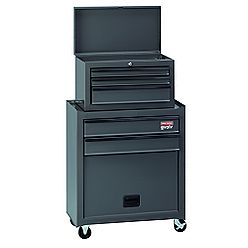 5 Drawer Tool Chest Protects ...
Black baked enamel shell and ...
Get the 41 inch 10 ...