Location of Rewards Numbers
SM
Your Member number and PIN are located on the back of your Shop Your Way RewardsSM card.
If you've lost or misplaced your card or numbers visit ShopYourWayRewards.com.
About Shop Your Way Rewards
SM
It's our free program that rewards our best customers. As a Shop Your Way Rewards you earn Points when you buy the things you want and need. Then you redeem those Points online or in store at Sears, Kmart, Lands' End, the great indoors, Sears Home Services, Sears Auto and mygofer. The more you shop, the faster your Points and special benefits pile up. It's a simple, fun and exciting way to shop.
About Shop Your Way Rewards
SM

VIP Levels

Our VIP Program is our way of saying thanks and recognizing our best Shop Your Way Rewards SM Members. There are three VIP levels: Silver, Gold and Platinum. Levels are determined by the dollar amount you spend annually. The more you spend in a year, the higher your status and the more benefits you enjoy. VIP benefits include special bonus Points, a personalized Member card, a dedicated 800 phone number and other exclusive offers.

Level

Annual spend threshold level

VIP Silver

: $2,500 annual spend

VIP Gold

: $5,000 annual spend

VIP Platinum

: $10,000 annual spend
About Shop Your Way Rewards
SM

Points

As a Shop Your Way Rewards Member, you earn 10 Points for every $1 you spend on Qualifying purchases. Plus, you'll receive exclusive deals and bonus offers that will help you pile up Points even faster.Want to see how many points you'll earn? Or how many points you need to buy something special? Use the My Points Converter. It helps you determine the value of your Points and purchases, including any bonus offers.

Customer Service Notification

Due to enhancements we are making to Shop Your Way Rewards, the posting of rewards activity is taking several days longer than normal. Your point balance may not reflect your most recent purchase or redemption activity. Thank you for your patience as we upgrade our systems to better serve you.
My Points Converter
Shop Your Way Rewards
SM

Terms
Your Purchase Amount:
The price of your purchase before sales tax
Your Points:
The number of Points in your account or the number of Points required / earned for a purchase
Bonus Points Multiplier:
Enter the multiplier for your bonus offer (i.e. 2X points, 3x points, etc.)
Points have a value of:
Cash value of your Points
Customer Ratings & Reviews
Product Description
Dyson's AM04 Hot + Cool™ fan heater provides the fastest whole-room heating in winter and smooth, cool air in summer. It uses patented Air Multiplier™ technology to draw in and amplify surrounding air, generating powerful airflow to cool you effectively in summer. In winter, drawn-in air is heated over ceramic plates before being projected forward for long-range heat.
Safety features include tip-over automatic cut out and no visible heating elements. No awkward grilles or blades make it easy to clean.
The AM04 provides total control—with a remote control for precise temperature and airflow adjustment, oscillation and touch-tilt. The target temperature can be selected to the degree (between 32°F to 99°F) and the intelligent thermostat keeps it there. Suitable for both small and larger rooms, the AM04 Hot + Cool™ comes with a 2 year warranty, parts and labor guaranteed by Dyson.
Air Multiplier™ technology draws in surrounding air to heat the whole room faster than any other
Cooling fan has high airflow and velocity for effective personal cooling
Long-range heat projection spreads direct heat throughout the room
Safety features included tip-over automatic cut out and hidden heating elements
You can select target temperature to the degree, and the intelligent thermostat keeps it there
There's no worrisome burning smell because it maintains temperature below dust burning point
No awkward grilles or blades make it easy to clean
Touch-tilt: The AM04 pivots on its own center of gravity and stays put without clamps
The remote control is curved and magnetized to store neatly on the machine and provides the following controls:

Standby on/off control
Oscillation control—independent motor drives smooth 70° oscillation
Variable airflow control—precisely adjusts airflow power, with 10 airflow settings available
Temperature control—33°F to 99°F precision
2 year warranty— Dyson guarantees parts and labor for 2 years
Added on October 22, 2011
mygofer Can Help
mygofer Guarantees, Policies & Agreements
mygofer return and exchange policy
Satisfaction guaranteed or your money back. Restocking, cancellation or other restrictions may apply. Learn More
mygofer purchase protect plan
If there's ever a problem with your product, a protection agreement can provide you with peace of mind. Find out how.
Overall, others give this:
2 Reviewers
(100.0%) would recommend this to a friend.
Overall Rating Breakdown:
Reviewers may have received a benefit, like a sweepstakes entry or rewards program points, in exchange for writing a review.
Those benefits were not conditioned on the positive or negative content of the review.
Jan 24 , 2012
i love this product. the remote allows me to turn it on before i get out of bed in the morning. it is lightweight and portible so i can move it room to room, and it doesn't get to hot to touch, so very safe for kids! and doesn't get dusty like some other heater's fan blades do! just set the thermostat on the dyson hot and it will shut off when it reaches the temp. you can also use it as a fan by making the thermostat really low.
I would recommend this product to a friend.
Specifications
Dimensions and Capacity:
Depth (in.):
7.9
Fuel Capacity (gal.):
0
Height (in.):
22.8
Width (in.):
7.9
Product Overview:
General Warranty:
2 years
Portable:
Yes
Power Source:
Electric
Color:
Color Family:
White
Safety Enhancements:
Backup Overheat Fuse:
Yes
Overload Protection:
Yes
Thermostat Heat Control:
Yes
Tip Over Shut-Off:
Yes
General Features:
Heater Type:
Fan-driven
Power Cord Included:
Yes
Controls:
Fan:
Automatic
Certifications:
ENERGY STAR Compliant:
No
Power and Performance:
Heater Rating (btu.):
1500
Heater Rating (watts.):
1500
Heating Area (Sq. Ft.):
1000
Manual Reset:
No
Voltage:
110/120V
Related Products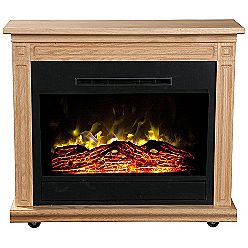 This is the famous electric ...
Frigidaire's FRA12EZU2 12,000 BTU 230 ...
Frigidaire's FRA186MT2 Energy Star 18,500 ...