Special Offers

Free Shipping

Offer ends 31-Dec-2015 See details.
Product Description
Cruise the yard in style with the Barbie VW
The Mattel Power Wheels VW Barbie is great for driving on hard surfaces. Powered by a 6-volt battery this Barbie VW cruises at 2.5 mph.
The Barbie VW features fun graphics and new Beetle styling. The driver's side door open and closes for easy access.
The Mattel Power Wheels VW Barbie features easy to use single foot pedal operation
6-volt battery powers the Barbie VW forward and reverse
Power Lock® Brake System for added safety
Includes 6-volt battery and charger
Added on April 07, 2011
Back to Top
Specifications
Product Overview:
Assembly Required:
Yes
Character:
Barbie
Gender:
Girls
Recipient Ages:
3y, 4y, 5y
Recommended Age:
3 - 5 years
Batteries:
Batteries Required?:
Required
Developmental Skills:
Developmental Skills:
Creativity
mygofer Can Help
mygofer Guarantees, Policies & Agreements
mygofer return and exchange policy
Satisfaction guaranteed or your money back. Restocking, cancellation or other restrictions may apply. Learn More
mygofer purchase protect plan
If there's ever a problem with your product, a protection agreement can provide you with peace of mind. Find out how.
Customer Ratings And Reviews
Overall, others give this:
3 Reviewers
(75.0%) would recommend this to a friend.
Reviewers may have received a benefit, like a sweepstakes entry or rewards program points, in exchange for writing a review.
Those benefits were not conditioned on the positive or negative content of the review.
Most Helpful Reviews
Praise
1 found this helpful
Great car for my 14 month old
This car is great. I'm not sure why there's so many bad reviews online. I put the steering wheel on by myself and my daughter can easily turn it. I'm guessing people didn't install it properly. The steering wheel shouldn't lift up at all if tightened all the way. My daughter really likes this car. It took her 4 days to figure out the gas pedal. If she's not driving it she likes to sit in it and play. The stickers take awhile to put on. I was able to smooth out most of the bubbles on the windshield sticker with a plastic toy knife. My only concern is with Sears. They sent a used car. It had scuffs on the bumper and dirt underneath the car. It looks as if the car ran into a brick wall. I called to have it replaced and they weren't very cooperative. I decided to just keep the car because I used my rewards points and got it for much cheaper than I could buy it anywhere else. I was able to hide the scratches with the stickers. I didn't reflect this in my rating since I'm rating the car not sears. Sears gets 0 stars.
Criticism
1 found this helpful
KansasCityParent
Nov 7 , 2010
ITEM IS DEFECTIVE DRIVE SHAFT DOES NOT CONNECT/ENGAGE WHEEL BAR
Assembly of item cannot be completed due to a manufacturing defect. The steering wheel is attached to a bar called the Steering Shaft which goes through a hole in the dash and down to the front wheels where it is supposed to engage the steering bar (the bar attached to the two front wheels). The problem is the SHAFT isn't long enough to make a connection with the steering bar. It's like nobody ever assembled this product to see if it matched up to the specifications before they went into mass production. IT DOESN'T FIT! So...on hold with manufacturer waiting to talk to a live person (2 hours), talking to a live person who was extremely nice but powerless to solve the problem (30 minutes), driving to the contract servicer back and forth plus waiting in a busy line (2 more hours). In the end--he scratched his head and said "can you leave it with us?" Hahahahaa. He didn't have a clue either. It's a waste of time and money--buy ANYTHING else but this item. THIS ITEM IS DEFECTIVE!
Related Products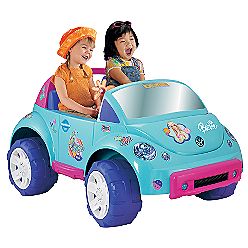 A great gift for ages ...
Just like Barbie in her ...
Product Features Battery for the ...