Fisher-Price Trio Hot Wheels Stunt Ramp Builder
Item#004W003362019000 | Model#V9539
Special Offers

Free Shipping

Offer ends 31-Dec-2015 See details.
Product Description
Ninety-three piece building set creates a cool Hot Wheels™ TRIO™ racecar and all kinds of awesome stunt tracks with jump-ramps and barrel crashing action. TRIO easy-click bricks make building the car and track a "snap" for kids (they can actually hear and feel the click of the bricks!), and the pieces stay together for active play. Part of the TRIO Hot Wheels world of exciting build & race action!
WARNING
Choke Hazard - Contains Small Parts
Added on July 01, 2011
Back to Top
Specifications
Product Overview:
Gender:
Boys
Assembly Required:
No
Character:
Hot Wheels
Alphabetic/Numerical:
No
Bucket or Tub:
No
Magnetic:
No
Blocks Material Type:
Plastic
Theme:
Trains & vehicles
Recommended Age:
3
Blocks Style:
Trio
Recipient Ages:
3y, 4y, 5y, 6y, 7y, 8y
Developmental Skills:
Developmental Skills:
Creativity
mygofer Can Help
mygofer Guarantees, Policies & Agreements
mygofer return and exchange policy
Satisfaction guaranteed or your money back. Restocking, cancellation or other restrictions may apply. Learn More
mygofer purchase protect plan
If there's ever a problem with your product, a protection agreement can provide you with peace of mind. Find out how.
Customer Ratings And Reviews
0 Reviews have been submitted for this product
You get to post the first review, you lucky dog you.
Related Products
Forty seven piece building set ...
The Hot Wheels® Track Builder ...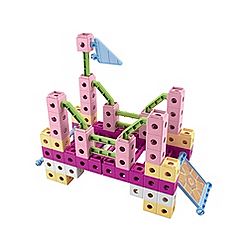 Easy to build so many ...