Special Offers
Mailable Home Furniture items Sold by Mygofer ships Standard Ground for $35 or less! Offer ends 31-Dec-2013 See details.

Free Shipping

Offer ends 10-Jul-2013 See details.
Location of Rewards Numbers
SM
Your Member number and PIN are located on the back of your Shop Your Way RewardsSM card.
If you've lost or misplaced your card or numbers visit ShopYourWayRewards.com.
About Shop Your Way Rewards
SM
It's our free program that rewards our best customers. As a Shop Your Way Rewards you earn Points when you buy the things you want and need. Then you redeem those Points online or in store at Sears, Kmart, Lands' End, the great indoors, Sears Home Services, Sears Auto and mygofer. The more you shop, the faster your Points and special benefits pile up. It's a simple, fun and exciting way to shop.
About Shop Your Way Rewards
SM

VIP Levels

Our VIP Program is our way of saying thanks and recognizing our best Shop Your Way Rewards SM Members. There are three VIP levels: Silver, Gold and Platinum. Levels are determined by the dollar amount you spend annually. The more you spend in a year, the higher your status and the more benefits you enjoy. VIP benefits include special bonus Points, a personalized Member card, a dedicated 800 phone number and other exclusive offers.

Level

Annual spend threshold level

VIP Silver

: $2,500 annual spend

VIP Gold

: $5,000 annual spend

VIP Platinum

: $10,000 annual spend
About Shop Your Way Rewards
SM

Points

As a Shop Your Way Rewards Member, you earn 10 Points for every $1 you spend on Qualifying purchases. Plus, you'll receive exclusive deals and bonus offers that will help you pile up Points even faster.Want to see how many points you'll earn? Or how many points you need to buy something special? Use the My Points Converter. It helps you determine the value of your Points and purchases, including any bonus offers.

Customer Service Notification

Due to enhancements we are making to Shop Your Way Rewards, the posting of rewards activity is taking several days longer than normal. Your point balance may not reflect your most recent purchase or redemption activity. Thank you for your patience as we upgrade our systems to better serve you.
My Points Converter
Shop Your Way Rewards
SM

Terms
Your Purchase Amount:
The price of your purchase before sales tax
Your Points:
The number of Points in your account or the number of Points required / earned for a purchase
Bonus Points Multiplier:
Enter the multiplier for your bonus offer (i.e. 2X points, 3x points, etc.)
Points have a value of:
Cash value of your Points
Product Description
Rocker and Ottoman for Style and Comfort in the Nursery or the Living Area
Put your feet up with this beautiful, neutral-colored Glider rocker and ottoman. Whether it's going in the nursery or in your favorite reading corner, this tan microfiber glider with a rich, attractive walnut finished hard wood frame will fit right in. Comfortable enough for hours of rocking your little one through the middle of the night, this chair is perfect for new parents. But it works just as well in front of your entertainment center for movie night or for visiting in the living room.
This rocker and ottoman features convenient pockets under each armrest. Store your remote control, your favorite book, magazine or burp cloths in pockets for easy retrieval. Overstuffed armrests will protect baby's head from bumps in the night or just add to your personal comfort when you curl up with your favorite book. Put your feet up on the rocking ottoman for ultimate comfort.
This versatile Glider rocker and ottoman is both comfortable and attractive enough to fit right in to your nursery or living room
Features convenient pockets under each armrest - stash your remote control, favorite book, magazine or baby items for easy retrieval
Constructed of durable hardwood in a rich, appealing walnut finish
Tan microfiber fabric is soft, neutral so it looks good anywhere, and easy to care for
Channel stitch detail on cushions provides extra comfort
Overstuffed armrests protect your baby's head or support your arms comfortably for reading or gaming
Easy to assemble
Comes with a one-year limited warranty
This product comes with:
Added on October 13, 2011
Back to Top
Specifications
Dimensions:
Chair Back Height:
Standard
Chair Depth (in.):
30
Chair Width (in.):
27.5
Item Weight (lbs.):
28.33
Overall Chair Height (in.):
38
Seat Dimensions (WxD):
25.75 x 21.75
Size Scale:
Standard
Weight Capacity (lbs.):
225
Product Overview:
Arms:
Yes
Assembly:
Ready to assemble
Chair Type:
Gliders
Lifestyle:
Casual
Made in the USA:
No
Quantity in Set:
1
Style:
Traditional
Color:
Color Family:
Beige & Tan
Finish:
Medium Finish
Pattern:
Solid
Included with Item:
Ottoman Included:
Yes
General Features:
Audience:
Adult
Durability:
Frame Material:
Wood
General Warranty:
1 year limited
Upholstery Type:
Microfiber
Others:
Color:
Multi
mygofer Can Help
mygofer Guarantees, Policies & Agreements
mygofer return and exchange policy
Satisfaction guaranteed or your money back. Restocking, cancellation or other restrictions may apply. Learn More
mygofer purchase protect plan
If there's ever a problem with your product, a protection agreement can provide you with peace of mind. Find out how.
Special Offers

Mailable Home Furniture items Sold by Mygofer ships Standard Ground for $35 or less! Offer ends 31-Dec-2013
See details.
Customer Ratings And Reviews
Overall, others give this:
0 Reviewers
(0.0%) would recommend this to a friend.
Overall Rating Breakdown:
Reviewers may have received a benefit, like a sweepstakes entry or rewards program points, in exchange for writing a review.
Those benefits were not conditioned on the positive or negative content of the review.
Jan 29 , 2013
It shipped fast and was relatively easy to pit together, but there were two big problems, one, there was no hole drilled on the left arm of the chair that attaches it to the back, and two, the snaps were crushed on the arm padding. Together these make the chair unuseable. Not so good since it was a birthday present for my 7-month pregnant wife. She tried it out as-is and siad she didn't think it was that comfortable for her taste. Sometimes there's a reason things are less expensive.
Related Products
The Microfiber Chocolate Rocker Recliner ...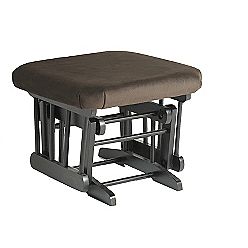 Dutailier Ultramotion Ottoman Espresso / ...
Dimensions: 24 Inches Deep x ...