Kenmore Elite 25.0 cu. ft. French-Door Bottom-Freezer Refrigerator
ENERGY STAR® Item#04671032000 | Model#71032

Location of Rewards Numbers
SM
Your Member number and PIN are located on the back of your Shop Your Way RewardsSM card.
If you've lost or misplaced your card or numbers visit ShopYourWayRewards.com.
About Shop Your Way Rewards
SM
It's our free program that rewards our best customers. As a Shop Your Way Rewards you earn Points when you buy the things you want and need. Then you redeem those Points online or in store at Sears, Kmart, Lands' End, the great indoors, Sears Home Services, Sears Auto and mygofer. The more you shop, the faster your Points and special benefits pile up. It's a simple, fun and exciting way to shop.
About Shop Your Way Rewards
SM

VIP Levels

Our VIP Program is our way of saying thanks and recognizing our best Shop Your Way Rewards SM Members. There are three VIP levels: Silver, Gold and Platinum. Levels are determined by the dollar amount you spend annually. The more you spend in a year, the higher your status and the more benefits you enjoy. VIP benefits include special bonus Points, a personalized Member card, a dedicated 800 phone number and other exclusive offers.

Level

Annual spend threshold level

VIP Silver

: $2,500 annual spend

VIP Gold

: $5,000 annual spend

VIP Platinum

: $10,000 annual spend
About Shop Your Way Rewards
SM

Points

As a Shop Your Way Rewards Member, you earn 10 Points for every $1 you spend on Qualifying purchases. Plus, you'll receive exclusive deals and bonus offers that will help you pile up Points even faster.Want to see how many points you'll earn? Or how many points you need to buy something special? Use the My Points Converter. It helps you determine the value of your Points and purchases, including any bonus offers.

Customer Service Notification

Due to enhancements we are making to Shop Your Way Rewards, the posting of rewards activity is taking several days longer than normal. Your point balance may not reflect your most recent purchase or redemption activity. Thank you for your patience as we upgrade our systems to better serve you.
My Points Converter
Shop Your Way Rewards
SM

Terms
Your Purchase Amount:
The price of your purchase before sales tax
Your Points:
The number of Points in your account or the number of Points required / earned for a purchase
Bonus Points Multiplier:
Enter the multiplier for your bonus offer (i.e. 2X points, 3x points, etc.)
Points have a value of:
Cash value of your Points
Customer Ratings & Reviews
Product Description
Kenmore is America's # 1 appliance brand, trusted in the homes of more than 100 million Americans.
Offering 25 cubic feet of food storage in a 33-inch-wide wide design, this spacious-yet-sleek Kenmore Elite French door refrigerator 71032 is ideal for smaller kitchens. The slim in-door ice maker frees up the entire top shelf and allows for full storage on both doors, while GeniusCool™ technology keeps food fresher by generating ideal temperature and humidity levels separately in the refrigerator and freezer. Multi Air Flow further optimizes refrigeration efficiency and food freshness by circulating cool air through multiple vents in the white Kenmore Elite 7103 refrigerator.
Read what Consumer Reports says about this refrigerator and other slim refrigerators.
Enjoy abundant space and storage options as this attractive fridge with contoured doors and hidden hinges provides 25.0 cu. ft. of capacity in a slim 33 in. width. Convenience features include a pull-out freezer door, full-width temperature-controlled Gourmet Pantry Drawer, 2 clear humidity-controlled crispers, 5 glass shelves and 7 door storage bins (2 adjustable, 2 gallon), including a covered dairy bin
Maximize your refreshment, instantly with the tall, integrated through-the-door dispenser, which serves fresh filtered water and cubed or crushed ice while featuring IntelliTouch Controls, Express Fill Technology, Ultra Ice® for quick ice production and a Blue LED exterior light that also serves as indicator when the water filter needs replacing
Find food quickly with LED lighting that powerfully illuminates the refrigerator and freezer sections while saving both space and electricity
Save energy, money and the environment with this ENERGY STAR®-qualified refrigerator that includes an alarm to alert you whenever a door is accidentally left open
This product is:
This product comes with:
Added on November 23, 2010
mygofer Can Help
mygofer Guarantees, Policies & Agreements
mygofer return and exchange policy
Satisfaction guaranteed or your money back. Restocking, cancellation or other restrictions may apply. Learn More
mygofer purchase protect plan
If there's ever a problem with your product, a protection agreement can provide you with peace of mind. Find out how.
Overall, others give this:
143 Reviewers
(68.0%) would recommend this to a friend.
Overall Rating Breakdown:
Reviewers may have received a benefit, like a sweepstakes entry or rewards program points, in exchange for writing a review.
Those benefits were not conditioned on the positive or negative content of the review.
Most Helpful Reviews
Praise
8 found this helpful
marcsbishop@me.com
We had a GE Profile side-by-sde in Hawaii that I absolutely hated for too numerous reason to go into, and I had shopped many replacements there, even though the unit was only 6 years old.
Well, we sold that place and moved to Southern Maryland in a same vintage house wth a Whirlpool tht wasn't much better.  So, I looked around again only to be discouraged that nobody had anything suitable that would fit our 34" space.  Then we found this refrig.
we have had it since September, 2011 (5 months), and we both love it.  Chose the "Stainless Like" finish, which is very classy, no smudges, and we can have the grocery list visible.  Storage space is at least equal to what we had before, especially given the French doors and space-saving ice-maker/container.
I was wary regarding the bottom freezer, as I thought that it would be a pain to find things on the bottom, but the mid-level slide out drawer has made this a non-issue.  If the larger items are placed in the lower section, then finding things is not an problem.
The unit's modern compressor is extremely quiet, which is good as that design runs almost constantly, though the electricity use is much less.
So, most everything is a Pro.  The only Con that I can think of is that the water coming out of the dispenser isn't very cold, especially after the first glass.  My guess is that there is not much in the way of water coils inside the refrigerated area, but this is probably to save space to allow for more refrigerated items, which is an OK trade-off.
Oh, and the spraying ice-cubes?  Put your glass up to the dispenser, which is easy to do since this unit has a very tall dispensing area so that you don't have to tilt your glass.  They spray otherwise because the cubes are smaller than normal, which is another feature I like a lot.  They also don't get jammed like in the old GE.  No more weekly hairdryer routine to defrost the shoot.
Criticism
5 found this helpful
Ice Maker Joke
In April 2012 we purchased a 30 cu ft Samsung side by side which had to be returned, because it would not fit our space. Sears service was very good about returning it. We had to order the Kenmore Elite 25 ft to make it fit.and it cost $400 more. Refrigerator works fine. The serious problem is the lack of ice making capacity. This thing makes mini cubes at about 4 glasses a day, even when in Ultra Ice setting. We are constantly out of Ice and have to store purchased ice in the freezer. I would not recommend this model, unless you don't have need for ice.
Specifications
Dimensions:
Standard or Counter Depth:
Standard Depth
Depth w/ Handle (in.):
35.375
Depth w/o Handle (in.):
32.87
Height to Top of Case (in.):
68.375
Height to Top of Hinge (in.):
69.75
Width w/ Door Closed (In.):
32.875
Color:
Color Family:
White
Capacity:
Freezer Capacity (Cu Ft):
7.5
Overall Capacity (Cu Ft):
25
Refrigerator Capacity:
17.5
General Features:
Humidity-Controlled Crisper:
Yes
Internal Water Dispenser:
No
Power Cord Included:
Yes
Storage:
Gallon Door Storage:
Yes
Filtration & Dispensing:
Ice Maker:
Yes
Ice Style:
Crushed & Cubed
Thru Door Dispenser:
Ice & Water Dispenser
Water Filter:
Yes
Water Filter Replacement Part Number:
04609690000
Freezer Features:
Defrost System:
Frost-free
Shelves & Storage:
Number of Freezer Door Bins:
0
Number of Freezer Shelves/Baskets:
2
Number of Refrigerator Door Bins:
7
Number of Refrigerator Drawers:
3
Number of Refrigerator Shelves:
5
Certifications:
ENERGY STAR Compliant:
Yes
Related Products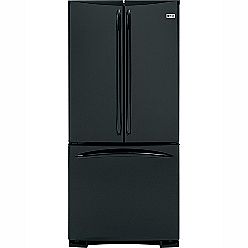 This GE Profile™ 19.5 cu. ...
This 22 cu. ft. KitchenAid® ...
Kenmore is America's # 1 ...