LEGO Pirates of Caribbean The Mill 4183
Item#004W003131489000 | Model#4611543
Special Offers

Free Shipping

Offer ends 31-Dec-2015 See details.
Product Description
Battle it out for control of the Dead Man's Chest!
At the mill, Captain Jack Sparrow, Will Turner and Admiral Norrington duel it out for the key to the Dead Man's Chest. Suddenly the mill wheel shakes loose – with them inside! Can they manage to stay upright and still stop Flying Dutchman Pirate Hadras from scuttling away with the prize? 365 elements.
Includes Jack Sparrow, Will Turner, Admiral Norrington and Hadras minifigures
Mill features detachable wheel and tower with bell rope
Palm tree and Dead Man's Chest also included

WARNING
Choke Hazard - Contains Small Parts
Added on July 14, 2011
Back to Top
Specifications
Product Overview:
Gender:
Boys
Assembly Required:
No
Character:
Pirates of the Caribbean
Alphabetic/Numerical:
No
Bucket or Tub:
No
Magnetic:
No
Blocks Material Type:
Plastic
Theme:
Movie & TV
Recommended Age:
7
Blocks Style:
LEGO
Recipient Ages:
7y, 8y, 9y, 10y, 11y, 12y, 13y, 14y
mygofer Can Help
mygofer Guarantees, Policies & Agreements
mygofer return and exchange policy
Satisfaction guaranteed or your money back. Restocking, cancellation or other restrictions may apply. Learn More
mygofer purchase protect plan
If there's ever a problem with your product, a protection agreement can provide you with peace of mind. Find out how.
Customer Ratings And Reviews
We're having a temporary system issue. Reviews will be viewable again soon.
Related Products
Last pirate standing wins! Introducing ...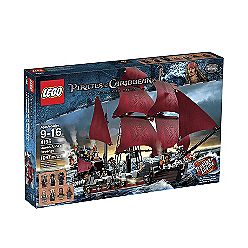 Take control of the Queen ...
Join mom who is waiting ...