Log Cabin Syrup, Sugar Free, 12 fl oz (354 ml)
Item#033W694189110001 | Model#69418911

Customer Ratings & Reviews
Product Description
Great taste! 80% Fewer calories than regular syrup. Calories/Serving for Sugar Free - 35. Calories/Serving for Regular - 210.
Directions: Refrigerate after opening.Ingredients: Water, Sorbitol, Contains 2% or Less of: Natural and Artificial Maple Flavors, Cellulose Gum, Sorbic Acid and Sodium Benzoate (Preservatives), Sodium Hexametaphosphate, Salt, Phosphoric Acid, Citric Acid, Aspartame, Acesulfame Potassium, Sucralose, Caramel Color, Mono - and Diglycerides.
Added on May 18, 2010
mygofer Can Help
mygofer Guarantees, Policies & Agreements
mygofer return and exchange policy
Satisfaction guaranteed or your money back. Restocking, cancellation or other restrictions may apply. Learn More
mygofer purchase protect plan
If there's ever a problem with your product, a protection agreement can provide you with peace of mind. Find out how.
Overall, others give this:
1 Reviewers
(100.0%) would recommend this to a friend.
Overall Rating Breakdown:
Reviewers may have received a benefit, like a sweepstakes entry or rewards program points, in exchange for writing a review.
Those benefits were not conditioned on the positive or negative content of the review.
Apr 16 , 2012
Log Cabin Syrup,Sugar Freeare very good
log cabin sugar free syrup,is an excellent syrup.twelve full ounce (three hundred fifty four ml) Log cabin syrup have been around for a long time.It has been a family tradition since 1887.This log cabin sugar free syrup have eighty percent fewer calories than other original syrup.serving size one fourth cup (,sixty ml) serving about six ,total fat zero grams,total carb.eight grams,protein zero gram,sodium one hundred fifty mg,calories twenty.Iam very pleased with this log cabin sugar free syrup,I have use this syrup for a long time,and it is always on my shopping list
I would recommend this product to a friend.
Related Products
A family tradition since 1887. ...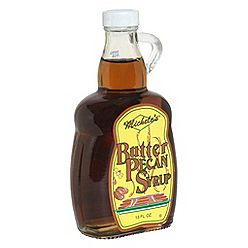 Butter Pecan Syrup began with ...
Syrup 24 Ounces Directions: Refrigeration ...