Physicians Formula Eye Booster Lash Boosting Eyeliner + Serum, 2-in-1, Deep Brown 7366 0.016 fl oz (0.5 ml)
Item#015W002858751000 |

Location of Rewards Numbers
SM
Your Member number and PIN are located on the back of your Shop Your Way RewardsSM card.
If you've lost or misplaced your card or numbers visit ShopYourWayRewards.com.
About Shop Your Way Rewards
SM
It's our free program that rewards our best customers. As a Shop Your Way Rewards you earn Points when you buy the things you want and need. Then you redeem those Points online or in store at Sears, Kmart, Lands' End, the great indoors, Sears Home Services, Sears Auto and mygofer. The more you shop, the faster your Points and special benefits pile up. It's a simple, fun and exciting way to shop.
About Shop Your Way Rewards
SM

VIP Levels

Our VIP Program is our way of saying thanks and recognizing our best Shop Your Way Rewards SM Members. There are three VIP levels: Silver, Gold and Platinum. Levels are determined by the dollar amount you spend annually. The more you spend in a year, the higher your status and the more benefits you enjoy. VIP benefits include special bonus Points, a personalized Member card, a dedicated 800 phone number and other exclusive offers.

Level

Annual spend threshold level

VIP Silver

: $2,500 annual spend

VIP Gold

: $5,000 annual spend

VIP Platinum

: $10,000 annual spend
About Shop Your Way Rewards
SM

Points

As a Shop Your Way Rewards Member, you earn 10 Points for every $1 you spend on Qualifying purchases. Plus, you'll receive exclusive deals and bonus offers that will help you pile up Points even faster.Want to see how many points you'll earn? Or how many points you need to buy something special? Use the My Points Converter. It helps you determine the value of your Points and purchases, including any bonus offers.

Customer Service Notification

Due to enhancements we are making to Shop Your Way Rewards, the posting of rewards activity is taking several days longer than normal. Your point balance may not reflect your most recent purchase or redemption activity. Thank you for your patience as we upgrade our systems to better serve you.
My Points Converter
Shop Your Way Rewards
SM

Terms
Your Purchase Amount:
The price of your purchase before sales tax
Your Points:
The number of Points in your account or the number of Points required / earned for a purchase
Bonus Points Multiplier:
Enter the multiplier for your bonus offer (i.e. 2X points, 3x points, etc.)
Points have a value of:
Cash value of your Points
We no longer carry this item. To find a similar item, scroll down or enter a term in the search box above.
Customer Ratings & Reviews
Product Description
Instantly & visibly boosts: lash length; lash volume; lash thickness. Precise brush-tip applicator. 24 hour wear. Hypoallergenic. Fragrance free. Paraben free. Dermatologist approved. Safe for sensitive eyes and contact lens wearers. 100% of women saw enhanced lashes instantly (Based on individual perception of results by a panel of female volunteers wearing mascara)! High-tech formula visibly enhances natural lash growth while providing the instant definition of a liquid eyeliner, in one easy step! Lash Boosting complex targets the root of lashes where it is most effective in providing nutrients associated with growing long thick lashes. Instant & lasting - lash boosting results! (Based on individual perception of results by a panel of female volunteers wearing mascara). After 2 weeks (Subjects wearing eyeliner & mascara) over 75% of women saw longer, fuller, more enhanced lashes. After 4 weeks over 91% of women saw longer, fuller, more enhanced lashes. After 4 weeks, 86% of women saw more lashes. Ultra-precise brush-tip applicator: Innovative and easy to use eyelining tool delivers effortless definition. High-performance, 24-hour wear: High-tech Japanese formula is long-wearing, water-resistant and smudge-resistant. Since 1937. Made in Japan.
Added on June 15, 2011
mygofer Can Help
mygofer Guarantees, Policies & Agreements
mygofer return and exchange policy
Satisfaction guaranteed or your money back. Restocking, cancellation or other restrictions may apply. Learn More
mygofer purchase protect plan
If there's ever a problem with your product, a protection agreement can provide you with peace of mind. Find out how.
Overall, others give this:
1 Reviewers
(100.0%) would recommend this to a friend.
Overall Rating Breakdown:
Reviewers may have received a benefit, like a sweepstakes entry or rewards program points, in exchange for writing a review.
Those benefits were not conditioned on the positive or negative content of the review.
Mar 28 , 2012
Great and stays on all day. Easy to apply and last for a very long time
I would recommend this product to a friend.
Related Products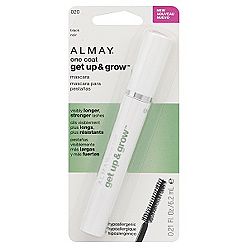 One coat. Visibly longer, stronger ...