Location of Rewards Numbers
SM
Your Member number and PIN are located on the back of your Shop Your Way RewardsSM card.
If you've lost or misplaced your card or numbers visit ShopYourWayRewards.com.
About Shop Your Way Rewards
SM
It's our free program that rewards our best customers. As a Shop Your Way Rewards you earn Points when you buy the things you want and need. Then you redeem those Points online or in store at Sears, Kmart, Lands' End, the great indoors, Sears Home Services, Sears Auto and mygofer. The more you shop, the faster your Points and special benefits pile up. It's a simple, fun and exciting way to shop.
About Shop Your Way Rewards
SM

VIP Levels

Our VIP Program is our way of saying thanks and recognizing our best Shop Your Way Rewards SM Members. There are three VIP levels: Silver, Gold and Platinum. Levels are determined by the dollar amount you spend annually. The more you spend in a year, the higher your status and the more benefits you enjoy. VIP benefits include special bonus Points, a personalized Member card, a dedicated 800 phone number and other exclusive offers.

Level

Annual spend threshold level

VIP Silver

: $2,500 annual spend

VIP Gold

: $5,000 annual spend

VIP Platinum

: $10,000 annual spend
About Shop Your Way Rewards
SM

Points

As a Shop Your Way Rewards Member, you earn 10 Points for every $1 you spend on Qualifying purchases. Plus, you'll receive exclusive deals and bonus offers that will help you pile up Points even faster.Want to see how many points you'll earn? Or how many points you need to buy something special? Use the My Points Converter. It helps you determine the value of your Points and purchases, including any bonus offers.

Customer Service Notification

Due to enhancements we are making to Shop Your Way Rewards, the posting of rewards activity is taking several days longer than normal. Your point balance may not reflect your most recent purchase or redemption activity. Thank you for your patience as we upgrade our systems to better serve you.
My Points Converter
Shop Your Way Rewards
SM

Terms
Your Purchase Amount:
The price of your purchase before sales tax
Your Points:
The number of Points in your account or the number of Points required / earned for a purchase
Bonus Points Multiplier:
Enter the multiplier for your bonus offer (i.e. 2X points, 3x points, etc.)
Points have a value of:
Cash value of your Points
This item is temporarily unavailable.To find a similar item, scroll down or enter a term in the search box above.
Customer Ratings & Reviews
Product Description
The Sole F85 Treadmill Steps You Up To Quality Fitness Without Stepping Up The Price
Packed with top-notch features that specially cater to your comfort and demands, the Sole F85 Treadmill literally pampers you while you're working out. Rated a "Best Buy" thanks to its innovative comfort features and high performance, the F85 treadmill has also been reviewed as "The Best Folding Treadmill" for its unique Easy Assist folding design technology. The deck almost magically folds and unfolds itself effortlessly once you release it, making storage a snap. With such flexibility at your disposal, you can easily stretch the space you have, using it as a gym one moment and a party venue the next.
The sturdy steel-welded treadmill delivers exceptional performance with its powerful 3-1/2hp motor and a heavy flywheel that makes its operation whisper quiet. Featuring a large commercial sized deck with a 22 inch wide running surface, the F85 offers the softest, safest and most stable running surface available making you wish that all walking surfaces felt this good! Its exclusive cushion flex absorption system takes all your pounding reducing the impact on your joints and back as you train intensely. Take your stride to the next level with speeds up to 12 mph at just the touch of a button.
The Sole F85 is built to withstand heavy-duty use and hold up to 400 pounds of weight so whether you're trying to get your body in ultimate shape or training for your next competition, it's up to the task. Fully equipped with the programs and customization you'd expect, this model also includes a 1/4 mile track with a Peak and Valley graph for greater challenge, while two separate heart rate control programs including a hands-free chest strap to keep you training in your right heart-rate zone.
Packed with deluxe features such as speed and incline controls on the arm rests and built-in cooling fans for comfort, the Sole 85 takes care of your needs intuitively. Its user friendly console sports a vibrant display and built-in speakers, letting you connect your mp3 player for more motivation. Once you experience the cool technology and plush features of the Sole F85 Treadmill, you'll understand why it's rated the way it is and sells the way it does!
Two user defined, six standard and two heart rate programs
3-1/2hp continuous duty motor, DC type
Speed: 0.5 to 12 mph
Incline: 15% maximum, rack and pinion gear design
Rollers: 2-3/4 in.
Belt: 2 ply
Tread belt: 22" W x 60" L
Tilt and go wheels for easy mobility
Dimensions: 36" W x 56" H x 81" L
Weight capacity: 400 lbs.
Assembly: Some assembly required
Includes: Water bottle, tools for assembly
Warranty: Lifetime frame, deck and motor; 5 years electronics, belt and rollers; 2 years labor
Imported
Besides treadmills, we also have a great selection of Ellipticals
This product comes with:
Added on October 21, 2010
mygofer Can Help
mygofer Guarantees, Policies & Agreements
mygofer return and exchange policy
Satisfaction guaranteed or your money back. Restocking, cancellation or other restrictions may apply. Learn More
mygofer purchase protect plan
If there's ever a problem with your product, a protection agreement can provide you with peace of mind. Find out how.
Overall, others give this:
10 Reviewers
(77.0%) would recommend this to a friend.
Overall Rating Breakdown:
Reviewers may have received a benefit, like a sweepstakes entry or rewards program points, in exchange for writing a review.
Those benefits were not conditioned on the positive or negative content of the review.
Most Helpful Reviews
Praise
1 found this helpful
Recommended by EVERYONE...now I know why.
I entered the world of treadmill shopping about 4 months ago. While looking at online reviews of all that's available, Sole kept showing up as either number one or number 2 recommended. I went to Sears and looked at a few of the Sole brand including the F80.
I chose the F85 for a few reasons. The rollers are larger, the motor is the most powerful motor Sole makes, and the weight limit is the highest. I weigh only 160 and my partner weighs 170 so the weight limit was a non issue but the higher the tolerances, the quieter and longer lasting the unit. One reason for not wanting to choose a Sole brand was because I wanted something that was able to be slide fore and aft when the unit was folded in the stored upright position and the F80 did not have this feature. When the delivery people came to set it up, I realised that the F85 actually DOES have wheels that allows it to be moved when it's not in use. That was a HUGE bonus for me. Since there aren't as many functions on this unit as some of the other higher end treadmills, set up was really easy. I read on a couple other reviews that the unit's weight was an issue. Yes it's heavy...and cannot be moved from room to room without a couple people helping you...but the weight ads to the sturdiness when in use. The motor is a little louder than I expected but quiet nonetheless. The platform is very stable when l'm running. My downstairs neighbour hasn't heard me on it yet. The fans mounted in the console are useless if you're running. Sole should have mounted a large fan under the console instead of 2 computer fans way up high because they don't produce enough airflow when they're on. The speakers are functional but not that great.
One of the problems I've experienced is that the unit does not power down as the instruction book says it is supposed to do. According to the manual, it's to power down and go into "sleep" mode after 10 minutes of non use but this has not been the case yet. I'll call Sears later but for now, this problem has not affected usability.
The other problem I have is with the pricing. The advertised MSRP is $2,499 with $500 off bringing the price to $1,999. The MSRP is actually $1,999. If you go to Sole's website, it's $1,999. If you go to any other retailer that sells this unit, it's $1,999. When I purchased it, I got 10% off as well as free delivery and set up. I purchased the extended warranty (highly recommended) and my delivered cost came to $2,251 with tax.
Criticism
1 found this helpful
sole f85
this product is great. I loved it when i purchased.
Specifications
Color and Styling:
Color:
Red/Black/White/Silver
Dimensions and Capacity:
Frame Dimension:
Precision steel welded frame with a whisper quiet cushion flex deck
Height (in.):
58
Item Weight (lbs.):
280
Length (in.):
80
Weight Capacity (lbs.):
400
Width (in.):
35
Controls and Features:
Belt Size:
Double woven 2 Ply belt 22 in x 60 in
Built-In or Custom Programs:
Built-In & Custom
Chest Strap Included:
Yes
Console Display Type:
LCD
Cushioning:
Heavy duty
Fan:
Built-in Fan
Folding:
Folding
Heart Rate Monitoring:
Pulse Grips & Chest Strap Compatible
iFit Technology Compatible:
No
Integrated TV:
No
Internet Browsing:
No
Sound System:
MP3 Compatible
Speed:
0.5 to 12 mph
USB:
No
WiFi Capable:
No
Workout Display:
Quarter mile track, speed, incline, calories, time, pulse, distance, User info
Product Overview:
General Warranty:
otor, Lifetime -- Deck, Lifetime -- Frame, Lifetime -- Electronics / Belt / Rollers, 5 years - Labor, 2 years, In-Home service
Maximum Incline (percent):
15
Running Surface Length:
60
Running Surface Width:
22
Warranty and Usage:
Residential - in home use
Power System:
Motor Power (hp):
3.5
Related Products
With an 18" x 47" ...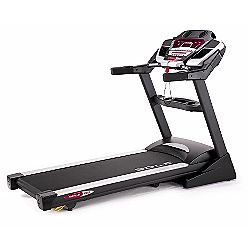 Motor: 3.0 HP Continuous Duty, ...
Get High End Home Fitness ...