Timex Mens Calendar Date Watch w/Round ST Case, White Dial & Black Leather Band
Item#026W065474729001 | Model#T2H281SQ
Special Offers

Free Shipping

Offer ends 10-Jul-2013 See details.
Location of Rewards Numbers
SM
Your Member number and PIN are located on the back of your Shop Your Way RewardsSM card.
If you've lost or misplaced your card or numbers visit ShopYourWayRewards.com.
About Shop Your Way Rewards
SM
It's our free program that rewards our best customers. As a Shop Your Way Rewards you earn Points when you buy the things you want and need. Then you redeem those Points online or in store at Sears, Kmart, Lands' End, the great indoors, Sears Home Services, Sears Auto and mygofer. The more you shop, the faster your Points and special benefits pile up. It's a simple, fun and exciting way to shop.
About Shop Your Way Rewards
SM

VIP Levels

Our VIP Program is our way of saying thanks and recognizing our best Shop Your Way Rewards SM Members. There are three VIP levels: Silver, Gold and Platinum. Levels are determined by the dollar amount you spend annually. The more you spend in a year, the higher your status and the more benefits you enjoy. VIP benefits include special bonus Points, a personalized Member card, a dedicated 800 phone number and other exclusive offers.

Level

Annual spend threshold level

VIP Silver

: $2,500 annual spend

VIP Gold

: $5,000 annual spend

VIP Platinum

: $10,000 annual spend
About Shop Your Way Rewards
SM

Points

As a Shop Your Way Rewards Member, you earn 10 Points for every $1 you spend on Qualifying purchases. Plus, you'll receive exclusive deals and bonus offers that will help you pile up Points even faster.Want to see how many points you'll earn? Or how many points you need to buy something special? Use the My Points Converter. It helps you determine the value of your Points and purchases, including any bonus offers.

Customer Service Notification

Due to enhancements we are making to Shop Your Way Rewards, the posting of rewards activity is taking several days longer than normal. Your point balance may not reflect your most recent purchase or redemption activity. Thank you for your patience as we upgrade our systems to better serve you.
My Points Converter
Shop Your Way Rewards
SM

Terms
Your Purchase Amount:
The price of your purchase before sales tax
Your Points:
The number of Points in your account or the number of Points required / earned for a purchase
Bonus Points Multiplier:
Enter the multiplier for your bonus offer (i.e. 2X points, 3x points, etc.)
Points have a value of:
Cash value of your Points
Product Description
A great looking watch that goes with almost any outfit. Whether you're shooting for a smart look at the office or the perfect punctuation for a night on the town, this is the timepiece for you. Contemporary round silvertone case with white Indiglo calendar date display, 3-hand movement and Arabic numerals. Black leather band. Water resistant to 30M.
Added on March 12, 2012
Back to Top
Specifications
Product Overview:
Type:
Dress
General Warranty:
Limited
Overall Type:
Analog
Power Source:
Battery
Color:
Dial Color:
White
Strap or Band:
Strap Color:
Black
Adjustable:
Yes
Closure:
Dash for Compares & Unknowns
Material:
Leather
Style:
Strap
Features:
Calendar Date:
Yes
Hour Timekeeping:
Yes
Minute Timekeeping:
Yes
Second Timekeeping:
Yes
Case:
Crystal:
Dash for Compares & Unknowns
Face Numerals:
Arabic
Material:
Silver
Durability:
Water Resistant Depth:
30 meters
Jewelry Disclosure:
Disclosures:
0
Others:
Metal:
Non-metallic
Time Display:
Analog
Watch Power Source:
Quartz (battery)
Watch Strap Type:
Leather
Case Shape:
Round
Gender:
Mens
Watch Type:
Wrist watch
Water Resistance:
Yes
mygofer Can Help
mygofer Guarantees, Policies & Agreements
mygofer return and exchange policy
Satisfaction guaranteed or your money back. Restocking, cancellation or other restrictions may apply. Learn More
mygofer purchase protect plan
If there's ever a problem with your product, a protection agreement can provide you with peace of mind. Find out how.
Customer Ratings And Reviews
Overall, others give this:
2 Reviewers
(67.0%) would recommend this to a friend.
Jan 3 , 2013
Rugged, sturdy and a great classic style; I have worn the women's version of this watch for several years and decided to purchases the men's style. After wearing it daily for a few weeks, I must say it has a beautiful simplicity and is very functional with the indiglo and date function. Love it.
I would recommend this product to a friend.
Nov 26 , 2012
Nice looking but very loud!
This watch is very classy looking and I really like that but the seconds hand ticks very loud. The first night with this watch my wife had remove the watch from the bedroom due to the loud ticking. At work my coworkers did not like the ticking either. I'm returning it to Sears today.
Nov 18 , 2010
Timex Mens Calendar Date Watch - Indiglo With Easy Read Numbers
I have worn Timex watches for many years. I like the simplicity and easy to use features. Actually, I have two Timex Mens Calendar Date Watches with the indiglo feature. The white face with black numbers make it especially easy to see the time. I use one of the two for everyday use and the other for special occasions. The Timex Mens Calendar Date Watch comes with a black leather strap that fit my wrist comfortably. The watch features hour, minute and second hands. The date function can be set by simply pulling the adjustment stem outward until you feel the first click. Rotate the stem until the desired date is in the window. If you wish to adjust the time, pull the stem outward until it stops. Rotate the stem until the desired time is set. When the settings are completed, push the stem in. The indiglo feature will activate by pushing and holding the stem in. It will go out when you release it. Indiglo is great for trying to see the time in the dark or dim light.
Timex watches are reliable and durable. I find that they are priced to fit most budgets. The long-life battery powers the watch and keeps accurate time.
I have enjoyed The Timex Mens Calendar Date Watch/Indiglo for many years. If my watch needed replacement, I would buy another Timex just like it again....No Regrets!
I would recommend this product to a friend.
Related Products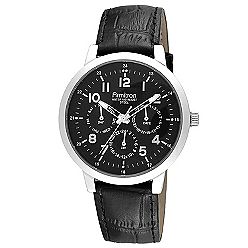 This fine dress watch offers ...
Take a bold masculine approach ...
A sleek look. This men's ...