Vivatek WXGA 1280x 800 Projector 2500 Lumens
Item#020V001297496000 | Model#D326WX
Special Offers

Free Shipping

Offer ends 10-Jul-2013 See details.
Location of Rewards Numbers
SM
Your Member number and PIN are located on the back of your Shop Your Way RewardsSM card.
If you've lost or misplaced your card or numbers visit ShopYourWayRewards.com.
About Shop Your Way Rewards
SM
It's our free program that rewards our best customers. As a Shop Your Way Rewards you earn Points when you buy the things you want and need. Then you redeem those Points online or in store at Sears, Kmart, Lands' End, the great indoors, Sears Home Services, Sears Auto and mygofer. The more you shop, the faster your Points and special benefits pile up. It's a simple, fun and exciting way to shop.
About Shop Your Way Rewards
SM

VIP Levels

Our VIP Program is our way of saying thanks and recognizing our best Shop Your Way Rewards SM Members. There are three VIP levels: Silver, Gold and Platinum. Levels are determined by the dollar amount you spend annually. The more you spend in a year, the higher your status and the more benefits you enjoy. VIP benefits include special bonus Points, a personalized Member card, a dedicated 800 phone number and other exclusive offers.

Level

Annual spend threshold level

VIP Silver

: $2,500 annual spend

VIP Gold

: $5,000 annual spend

VIP Platinum

: $10,000 annual spend
About Shop Your Way Rewards
SM

Points

As a Shop Your Way Rewards Member, you earn 10 Points for every $1 you spend on Qualifying purchases. Plus, you'll receive exclusive deals and bonus offers that will help you pile up Points even faster.Want to see how many points you'll earn? Or how many points you need to buy something special? Use the My Points Converter. It helps you determine the value of your Points and purchases, including any bonus offers.

Customer Service Notification

Due to enhancements we are making to Shop Your Way Rewards, the posting of rewards activity is taking several days longer than normal. Your point balance may not reflect your most recent purchase or redemption activity. Thank you for your patience as we upgrade our systems to better serve you.
My Points Converter
Shop Your Way Rewards
SM

Terms
Your Purchase Amount:
The price of your purchase before sales tax
Your Points:
The number of Points in your account or the number of Points required / earned for a purchase
Bonus Points Multiplier:
Enter the multiplier for your bonus offer (i.e. 2X points, 3x points, etc.)
Points have a value of:
Cash value of your Points
Product Description
Vivitek D326WX - DLP projector - 2600 ANSI lumens - WXGA (1280 x 800) - widescreen
The D326WX (Wide-XGA) is part of Vivitek's line of mobile projectors, built with a completely, fresh look and incorporated with features that no other Vivitek video projector has offered before. The D326WX DLP projector uses the latest DLP technology from Texas Instruments that enables displays with outstanding image quality and exclusive BrilliantColor for exceptional brightness and vibrant colors. The D326WX DLP projector offers rapid start-up and instant shutdown features that enable you to instantly commence the presentation and then shutdown the projector without the cool-down period. Once your presentation is over, you can simply press the power button, disconnect, and go off to your next meeting. The units also include a built-in Kensington security lock to help prevent any unauthorized removal or the theft of your projector.
Lightweight and convenient for the mobile professional
When you need to take your business "on-the-road" and can't be bogged down with weighty hardware, Vivitek's D326WX mobile DLP projectors are the perfect traveling companions. The compact and lightweight mobile projectors offer versatility and mobility for professionals, presenters, and sales associates with added peace of mind to keep focused on the important business tasks.
Easy set-up and performance
From source to screen, the D326WX projector ensures you to get a pure connection with a choice of HDMI or component cable connectors. The 720p HDTV format brings you 720 lines of vertical resolution transmitted at one time, as opposed to interlaced formats, so your HD projector can produce more clarity for fast motion events such as sports. Mount it on a wall or place it on a table, then adjust the picture with onboard, vertical digital keystone correction, if needed.
DLP projector with superior color reproduction
The D326WX projector shine bright at 2600 ANSI Lumens and each has a rich 2500:1 contrast ratio. Additionally, the projector combines all the critical features of an advanced DLP chip, a 5-segment color wheel (R, G, B, W, Y) and a high efficiency light source lamp to produce an incredible picture with rich and vibrant colors.
Low cost of ownership
The D326WX DLP projector is of a filter-free design that minimizes maintenance and produces a cost-effective lamp life of up to 4,000 hours (Eco-Mode). These cost and service efficiencies make Vivitek's projectors the smart long-term investment with increased value and the lowest total cost of ownership!
This product comes with:
Added on October 21, 2010
Back to Top
Specifications
General Information:
Cables Included - Miscellaneous:
1 x VGA cable
Service & Support - Manufacturer Warranty:
1 year warranty
Device Type - General:
DLP projector
Service & Support Details - Manufacturer Warranty:
Limited warranty - 1 year ¦ Limited warranty - lamp - 90 days
Depth - General:
7 in
Width - General:
8.7 in
Weight - General:
3.2 lbs
mygofer Can Help
mygofer Guarantees, Policies & Agreements
mygofer return and exchange policy
Satisfaction guaranteed or your money back. Restocking, cancellation or other restrictions may apply. Learn More
mygofer purchase protect plan
If there's ever a problem with your product, a protection agreement can provide you with peace of mind. Find out how.
Customer Ratings And Reviews
0 Reviews have been submitted for this product
You get to post the first review, you lucky dog you.
Related Products
ASK Proxima A1000 series DLP ...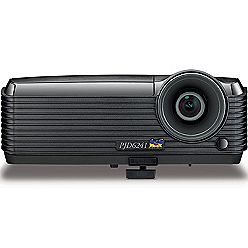 ViewSonic PJD6241 DLP projector 3D ...
800 x 600 SVGA 4:3 ...