Special Offers

Free Shipping

Offer ends 10-Jul-2013 See details.
While quantities last
Intermediate markdowns may have been taken
Location of Rewards Numbers
SM
Your Member number and PIN are located on the back of your Shop Your Way RewardsSM card.
If you've lost or misplaced your card or numbers visit ShopYourWayRewards.com.
About Shop Your Way Rewards
SM
It's our free program that rewards our best customers. As a Shop Your Way Rewards you earn Points when you buy the things you want and need. Then you redeem those Points online or in store at Sears, Kmart, Lands' End, the great indoors, Sears Home Services, Sears Auto and mygofer. The more you shop, the faster your Points and special benefits pile up. It's a simple, fun and exciting way to shop.
About Shop Your Way Rewards
SM

VIP Levels

Our VIP Program is our way of saying thanks and recognizing our best Shop Your Way Rewards SM Members. There are three VIP levels: Silver, Gold and Platinum. Levels are determined by the dollar amount you spend annually. The more you spend in a year, the higher your status and the more benefits you enjoy. VIP benefits include special bonus Points, a personalized Member card, a dedicated 800 phone number and other exclusive offers.

Level

Annual spend threshold level

VIP Silver

: $2,500 annual spend

VIP Gold

: $5,000 annual spend

VIP Platinum

: $10,000 annual spend
About Shop Your Way Rewards
SM

Points

As a Shop Your Way Rewards Member, you earn 10 Points for every $1 you spend on Qualifying purchases. Plus, you'll receive exclusive deals and bonus offers that will help you pile up Points even faster.Want to see how many points you'll earn? Or how many points you need to buy something special? Use the My Points Converter. It helps you determine the value of your Points and purchases, including any bonus offers.

Customer Service Notification

Due to enhancements we are making to Shop Your Way Rewards, the posting of rewards activity is taking several days longer than normal. Your point balance may not reflect your most recent purchase or redemption activity. Thank you for your patience as we upgrade our systems to better serve you.
My Points Converter
Shop Your Way Rewards
SM

Terms
Your Purchase Amount:
The price of your purchase before sales tax
Your Points:
The number of Points in your account or the number of Points required / earned for a purchase
Bonus Points Multiplier:
Enter the multiplier for your bonus offer (i.e. 2X points, 3x points, etc.)
Points have a value of:
Cash value of your Points
Product Description
1-2-3 toss! VTech's Count with Me Hippo creates fun with numbers as your toddler plays exciting and colorful number and toss games! Hungry hippo counts the balls as you throw them in its mouth. Three colorful balls included. Light-up buttons teach numbers and lead gameplay. Two modes of play. Ages 18-36 months
WARNING
Choke Hazard - Contains Small Parts
Added on July 29, 2010
Back to Top
Specifications
Product Overview:
Characters:
Non Character
Assembly Required:
No
Gender:
Unisex
Color:
Purple
Recommended Age:
1.5
Recipient Ages:
18m, 24m, 30m, 3y
mygofer Can Help
mygofer Guarantees, Policies & Agreements
mygofer return and exchange policy
Satisfaction guaranteed or your money back. Restocking, cancellation or other restrictions may apply. Learn More
mygofer purchase protect plan
If there's ever a problem with your product, a protection agreement can provide you with peace of mind. Find out how.
Customer Ratings And Reviews
Overall, others give this:
0 Reviewers
(0.0%) would recommend this to a friend.
Overall Rating Breakdown:
Reviewers may have received a benefit, like a sweepstakes entry or rewards program points, in exchange for writing a review.
Those benefits were not conditioned on the positive or negative content of the review.
Jul 4 , 2011
Entertaining but needs some work
My daughter is 7 months old, the lights are really attractive to her and she likes the music. But the handle doesn't work to pop the balls out. The card board tongue is something easy for a baby rip out. I know its ment for an older child but and 18 month old child would still grab on to it and try taking it out. Thats just what babies do.
Jan 19 , 2011
My one year old received this for a christmas present-I thought it would be good for him and his three year old brother to play together. They both like to throw balls around-The mouth of the hippo could be a little bigger but besides that once they get the balls in the mouth;then the balls are supposed to pop out of the foot. Even when they pull the handle the ball gets stuck in the foot and the hole that is in the foot is not big enough for their hand to reach in and pull the ball out. It is only January 19th and neither one of them plays with it.
Related Products
There is always fun and ...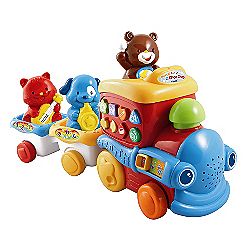 All aboard the Musical Fun ...