Special Offers

Free Shipping

Offer ends 10-Jul-2013 See details.
Product Description
Make kabob cooking a breeze with 6 stainless steel skewers and a heavy-duty plated rack. Use on 18.5" diameter and larger kettles and all Weber gas grills.
Added on May 11, 2011
Back to Top
mygofer Can Help
mygofer Guarantees, Policies & Agreements
mygofer return and exchange policy
Satisfaction guaranteed or your money back. Restocking, cancellation or other restrictions may apply. Learn More
mygofer purchase protect plan
If there's ever a problem with your product, a protection agreement can provide you with peace of mind. Find out how.
Customer Ratings And Reviews
Overall, others give this:
2 Reviewers
(100.0%) would recommend this to a friend.
Mar 8 , 2012
This was on sale and was too good to pass up. They look durable and will probably last a long time.
I would recommend this product to a friend.
The reviewer indicated they received a sample of this product.
Sep 24 , 2010
Sturdy Kabob Set That Can Withstand Grilling
Okay..It's no secret that I like to grill and cook indoors. The Weber Kabob Set is another one of those gifts that I received that gets a lot of use. The Weber Kabob Set consists of the holder a couple of skewer holders and 6 skewers. In the past, I've struggled with Kabobs on the grill using bamboo skewers which always seemed too weak to hold the food, they were always bending, breaking and on some instances catching fire. The Weber Kabob set eliminates all of the hassle. The skewers are nickel-plated steel and can be used on a charcoal or gas grill. The rack that holds the skewers allow for easy turning of the skewers. Obviously, the skewers are very hot and protective gloves or tongs should be used in handling the skewers.
It is easy to thread your favorite meat, seafood and vegetables on the skewers. The tip of the skewer is pointed to allow you to easily insert it into the food. The skewer is also flat vs. round. This allows for the Kabob to be turned without the food rolling around on the skewer. The large loop on the end makes it easy to rotate.
If you enjoy Kabobs...then the Weber Kabob Set is a must!!
I would recommend this product to a friend.
Related Products
Full length vinyl grill cover ...
Designed for use with the ...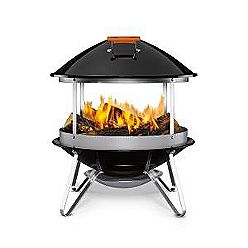 Porcelain Enameled Lid and Bowl, ...